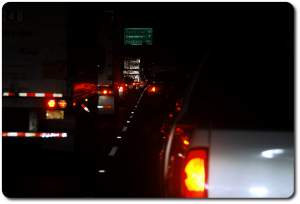 "Focus on the journey, not the destination. Joy is found not in finishing an activity but in doing it." -Greg Anderson
I don't know who Greg Anderson is but he could not be more wrong.
When I'm moving at 5mph on I-5 North through Portland, just ten miles away from the bridge that will get me to my home state, there is absolutely no joy in focusing on the journey. There is road rage, but not joy.
Maybe I don't like focusing on the journey because it is too predictable. I know the drive from the University of Oregon campus to my house in Poulsbo, Washington like the back of my hand. I know how long it should take me to get to certain landmarks along the way, I know the top speeds I can get away with driving at, & I know that the destination of home is much better than this 5 hour journey.
I've done this same back and forth drive up and down I-5 for three years now and it doesn't get better. The most pleasure I get out of it is when I break a personal record in the amount of time it takes me to get from school to home or vice versa.
(I've made it in five hours flat, my goal is to shave twenty minutes off of that time.)
Another game I like to play is testing how successful I am at weaving through traffic, changing lanes at the right time to pass a certain car/truck I've picked out of the crowd. This is my entertainment, my distraction from thinking about the journey.
I know this blog is about road trips- great ones, last ones- so me bitching about least favorite ones seems a little pointless, right? I am not writing this to deter you from taking future road trips. I am writing this to encourage your automotive travels. Even though I hate the drive from college to home to college, I still do it as often as I can.
Why put myself through this? Because the destination is worth it, and much better than the journey.
Road trips can be a lot of fun and you can learn a lot from them. But the next time you are stuck in traffic, angry at the world, remember this: Focus on the destination, not the journey. It's worth the cramped legs and expensive gas prices.