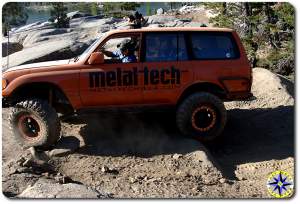 We came, We saw, We Kick Some Off-Road Ass…
If you follow our off-road adventure and please tell me you do, than you know we recently returned from the Rubicon trail. And I'm sure you read the stories and saw the pictures… Right!
So if a picture is worth a 1,000 words, than video must be priceless. Well here are four (yes count them four) videos that will give you a little better idea of the boulder strewn demilitarized zone hell we traveled just to say we did it.
Off-road adventure video 1 shares the story of Bernd wheeling the Rubicon.
4×4 adventure video 2 shows Nick in all his glory on the 2009 Metal Tech Invitational.
Video 3 gives you a look at Frank and his battle with the Rubicon 4×4 trail.
And finally Blue Bunny shares a different look at the Rubicon trail.
The world has gone from cave drawings to 8mm to VHS (we'll skip the whole Betamax debacle) to digital to HD to You Tube and who knows where it will go next. The technology may change and videos may fad but the memories we made will last a life time.