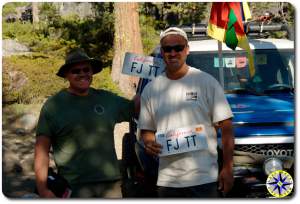 At Last Great Road Trip we pride ourselves on the fact that we not only go on some amazing off-road adventures but that we drive our Toyota FJ Cruiser there and back (hence the road trip moniker).  So imagine our shame when Brian "Woody" Swearingen passes us on the way to Tahoe with our rig in tow.
Rubicon is seven of the hardest miles in the world to drive, but it is also nearly 2,000 miles of asphalt there and back from Seattle. We've been doing a lot…  and I really mean a lot, of major modification to our Fj Cruiser (want a list: Ultimate FJ Cruiser), getting ready for the 25th anniversary of Rubithon.  Some of them took longer than expect and we'd just finished up the last of them the week before, still not knowing if they would all hold together.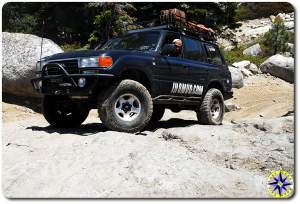 With no time to shake her down, new Metal Tech 4×4 tube doors installed (killing any idea of climate control through the wind, rain and heat) and the expectation of carnage that comes with running the Rubicon trail, we decided to take Mark up on his very generous offer of a truck and trailer to tow our FJ Cruiser to the event. (It Takes A Garage to pull these adventures off and we can't thank Mark enough for the tow rig and Metal Tech's help)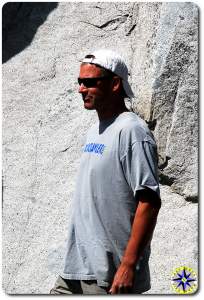 Life is good when you're driving 14,000 lbs of internal combustion furry down the road, over the hills, though the desert and into Reno for the night.  Despite a maximum speed of 55, the need to find parking for a 45 foot land yacht and 12 MPG on diesel, we are heading to Rubicon and nothing could rain on our parade.
Driving up into the Eldorado mountains of Tahoe in northern California, pushing a good 30 MPH on the vertical climb, we spotted a well built Toyota Wagon (80 series) blow by, sporting some very fancy off road stickers. The next thing I know, text messages are blowing up my phone from several folks wanting to know about the trailer…  Woody had put the word out.
Google "Brian 'Woody' Swearingen" and what comes back is a very impressive off-road resume: Founder of IH8MUD.com, professional driver for the 2007 and 2008 Toyota Trail Teams, owner of rockcrawler.com, co-driver Baja 1000 (JTGrey Lexus LX 570 won the Stock Full class in the 45th Tecate SCORE Baja 1000 with Brian's help) and Mint 400, TLCA member of the year, entrepreneur…  the list goes on. Basically: Off-Road Rock Star!
When we arrived at the trail head in the morning to meetup with the others in our run, there was Woody, grinning ear to ear with a welcoming out stretched hand and the announcement to everyone that we should change our sites name to Last Great "Trailer" Trip if we weren't going to drive the hard miles…  I'm pretty sure, at that moment, I saw Hula Betty hang her head in shame, a tiny tear drop fall from her porcelain cheek and hit the dash as everyone chuckled.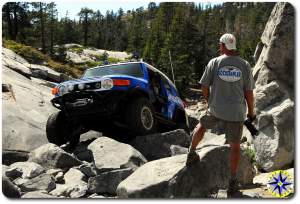 Of course Woody gave us grief the entire week of Rubithon.  But he also spotted us up some of the gnarliest sections of Rubicon including Little Sluice, keeping the Blue Bunny unscathed. Woody gave us tips on 4-wheeling and made it look easy in his Land Cruiser. He provided a ride back out on the trails to videotape other groups of rigs as they made their way into Rubicon Springs and kept us all entertained around the campfire every night with his tales, quick wit and sarcasm. In other words, Woody showed us why he is a legend in the world of Toyota motor sports off-road.
The price I paid in ribbing and ridicule for taking the road out of road trip was worth every moment for the chance to wheel with and learn from one of the best in off-roading.  I wont swear we'll never trailer our FJ Cruiser again…  that is a very nice way to travel… but we will think long and hard before putting the Blue Bunny in tow again…  I promise.