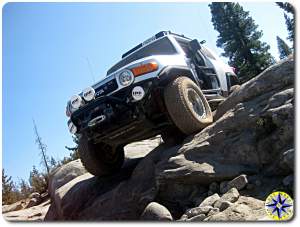 The Rubicon Trial is the stuff legends are made of…  the grand daddy of all 4×4 trails, this "county road" will pick and poke at you until it finds your weakness and extracts its revenge.  Drive the Rubicon Trail once and you'll have a lifetime of bragging rights.
The Toyota Land Cruiser Association, known as TLCA first came together more than 40 years ago and is now the largest Toyota 4×4 association with more than 65 chapters.  Their primary goal is to bring together a vibrant community of Toyota owners and families.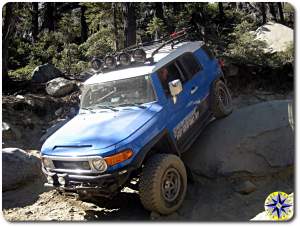 With all these owners connected through the TLCA a big part of building the community is through off-road events and one of their oldest traditions is Rubithon which is celebrating it's 25th anniversary. The Rubiton adventure starts at Loon Lake, travels seven miles down the most famous Northern California "county road", known simply as The Con. The turtle paced drive over boulders and granite culminates at The Springs.
For two days, Rubicon Springs, a private camp ground tucked into the high country above lake Tahoe, will be home to more than 300 Toyota off-road enthusiast as they rekindle old friendships, make new connections and celebrate a love for adventure. Camping, four-wheeling, cookouts, hiking, camaraderie and raffle prizes will be the order of business at Rubithon.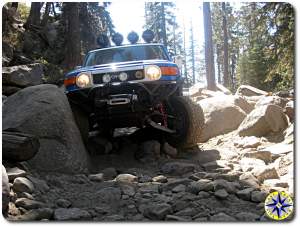 Sure we drove the Rubicon Trail back in 2009 but every year the Rubicon Trail changes due to  snow and erosion making each run a unique challenge. This will be the first major test for the Blue Bunny following all her FJ Cruiser suspension upgrades.  Granite boulders, endless trail obstacles, shear cliffs and the very real threat of damage to our rig will make for hella shake down run.
In two days we start… part scared, part anxious and all excited about our upcoming Rubithon off-road adventure.  With no cell phone coverage or Internet, we invite everyone to follow our progress via satellite GPS updates on our web site.
Next: The embarrassing call