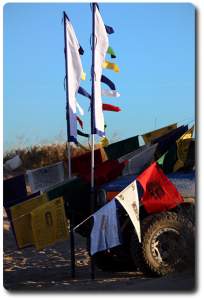 For centuries Tibetan Buddhists have planted prayer flags outside their homes and places of spiritual practice for the wind to carry their message across the countryside. The Buddhist symbols and mantras printed on the flags represent the enlightened mind: compassion, perfect action, fearlessness…
Traditionally the sets of five color flags are put in the order of blue, white, red, green, yellow. The colors represent the elements:
Blue – space
White – air (sometimes referred to wind or cloud)
Red – fire
Green – water
Yellow – earth
Prayer flags are said to bring happiness, long life and prosperity to the flag planter and add compassion to the universe. Displayed on an adventure, prayer flags impart a feeling of harmony and show respect for the environment and all beings.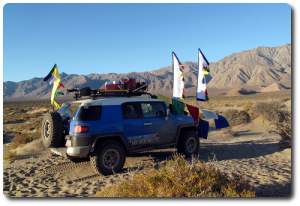 Prayer flags are displayed horizontally or fastened to bamboo, wood or metal poles for vertical display. The two (2) panel vertical prayer flags fit nicely over a four (4) foot CB antenna allowing you to easily display the flag when stopping for the night.  Places yours outdoors at your base camp where the wind can carry their mantras on the breeze.
Following traditional methods, these prayer flags are hand printed in Kathmandu, Nepal by craftsmen on high quality 100% cotton fabric with non-toxic, colorfast textile paints. The details in each design are quite precise and the colors are pure and bright.



To learn more about prayer flags, read this article written by Timothy Clark of Radiant Heart Studio who supplies us with these beautiful prayer flags: Prayer flag tradition