Like you, I'm often asked my age: at the doctors office, on-line forms, at boarder crossing, at the arraignment… um we'll just skip that one.  The fact is I don't know.  Yes I know my birthday and yes I can do math but it never works out to a number that feels right.
I firmly believe it is important to nurture the child inside. Each time we lay on the ground, stare at the stars, catch fireflies in a jar, act a little silly, or unleash a heart felt laugh at our self, we let our little kid run free and turn back the clock a notch.
Many of my friends and family will tell you the Last Great Road Trip is my mid-life crisis. Others will tell you I have PPDS (Peter Pan disorder syndrome). All I know is I no longer dream about what I will do… someday.  Someday is now. Even though most of my hair has gone south, my metabolism has all but abandoned me and my knee aches when it is cold out, I'm a kid at heart… How old am I…  I am young enough to get out and explore… experienced enough to avoid most trouble… and have obtained a credit rating to cover the rest.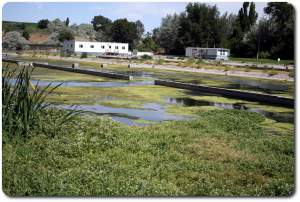 Remember back on day one of this off-road adventure when we accomplished the other big thing? Do you really or are just pretending so you can get through the intro? Well back then I told you there was one big thing I was planning to do… Well we finally did it!
Everyone is feeling good this morning, well rested, re-hydrated and despite another free hotel breakfast buffet, eager to get on the road. Leaving Twin Falls we are all back in our own rigs making good time. The sky is blue, the sun is warm and the breeze is at our back. The day can't get much better…
Billingsly Creek is a fly fisherman's wet dream. Cool, crystal clear water with predictable hatches and lots of wary trout. And just off the creek is a hatchery. And on that hatchery is a quiet little settling pond.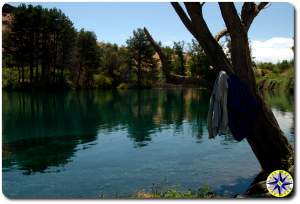 We took the exit that put us on an old, worn out, blacktop, farm road meandering past cattle and corn fields, leading to the hatchery turnout. To look at it you would think the old hatchery was abandoned. Muskrats, moss and frogs now occupy several of the large cement ponds that once held brood stock. An old railroad-tie bridge leads down to a few active concrete runs, full of eight inch rainbows that send the water into a boil each time the pellets fall from the automatic feeders to the jostling hordes of trout below.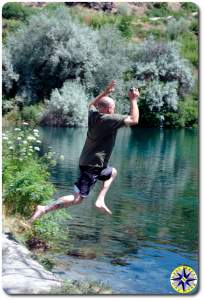 Beyond the concrete runs and office trailers, a quarter of mile down a dirt path is a swimming hole (aka settling pond). The pond that Boy and I had swum in, on a hot summer day, four years earlier on day 10 of FJ Summit adventure.
As Brad, Other Paul and I walk toward the swimming hole I could tell they clearly were looking at me like I'd lost my mind for dragging them down here. It was exactly as I remembered. Deep, cool, glass like water with a babbling creek entering at the far side. I kicked off my Keens, tossed my towel aside, stepped back and made a running leap that broke the water's still surface with a belly flop that clearly deserved 10s from the judges.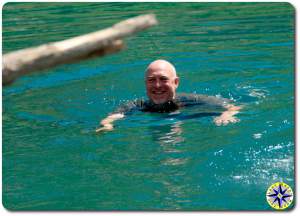 Water still raining down gin clear droplets from my entrance, I swam to the bottom then shot to the surface for a gulp of air, like a baby expanding its lungs for the first time. As if swimming in a giant martini, I drank in the feeling of weightlessness, felt the burdens of life dissolve and watched the clock turn back several decades in the baptismal waters of this magical swimming hole. Feeling reborn, I quickly climbed out, toweled off and grinning ear to ear, announced it was time to get back to the rigs and head home.  The one big thing…  jumping into the fountain of youth… DONE.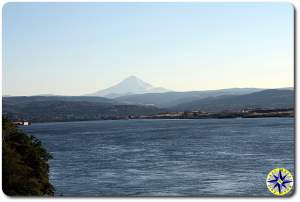 We put several hundred more miles between us and Billingsly Creek before approaching the junction that Other Paul would turn north while we continued west. It is funny how everyone has rituals and before we parted ways, Other Paul asked that we join him for his road trip ritual. "We'll have two cheese burgers, fires and a soda."  Yeah a McDonalds cheeseburger at the end of an epic trip…  Why Not. We sat under the Hamburglar's sinister grin, chatting about places we'd seen, the dirt roads we'd driven, stories we'd tell others and the ones we wouldn't mention. Each of us, in our own way, thanked the others for making this off-road adventure another memorable experience to tuck into the mental rolodex.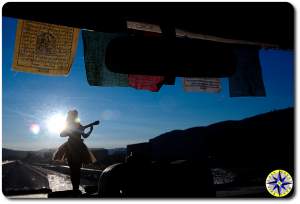 After saying good bye and wishing Other Paul safe travels, Brad and I chased the setting sun back to Portland. Nine days earlier we'd set out for an off-road adventure. Now we part ways with new memories that will last a lifetime and a few more experiences that will keep the door of our youth wide open. Young is… as young does.