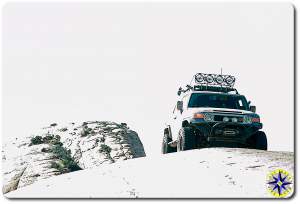 After yesterday's off-road adventure excitement, today's leg was going to be an easy stretch that ends in Ouray, CO., where hot showers, cold beer and good friends were waiting. But if there is one thing I've learned from all this crazy mid-life crisis, it's that change is constant… flow with it… or die.
While Brad and I woke relatively rested, despite the winds endlessly howling through the night, Other Paul's body was still coming to grips with too little sleep, never ending need for water and a lot more heat. Too hot to cook, the morning team meeting was held once again at the Wake and Bake Cafe. This time, the discussion over breakfast tacos and espresso was not about wheeling. When you take guys on an adventure, their spouses expects you to return them in the same condition as you borrowed them and no amount of security deposit will cover giving back a broken guy. Other Paul had put his life in danger to help me out of a jam and he paid a price. Now it was our turn to step up and get him home.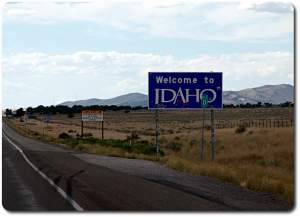 We decided the best approach was to change up drivers and rigs as we turned the team toward home. Brad would drive the Blue Bunny with Other Paul keeping him company. Together they would ride in cool air conditioned luxury. The Defender was mine to captain.
First let me describe the heat that engulfs you in a D90. Your ass is cooking… I'm not being figurative here. I think my ass is still scorched from the experience. There is only a thin sheet of aluminum, wisp of horse hair stuffing and a bit of leather separating you from the 182 horsepower inferno. Driving through Salt Lake, six lanes of asphalt reflecting the noon day sun, chewing on diesel fumes from our 18 wheeler escort and the Defender's internal combustion furnish blasting at my feet, gave me a new level of respect for the 1,500 some miles Other Paul had endured on this adventure. But I must tell, you despite the heat, driving a D90 is an amazing experience that is worth any minor inconveniences. I'm driving a legend.
Back in the 80's, on one of the first, last great road trips, Brad and I drove across the West (yeah we've been at this a while). On that trip we came across an exit sign announcing two little towns: Burly and Paul. On that trip, giddy as a school boy on the last day of class, I made him stop along the highway in the really late (or really early) darkness.  On that long forgotten night I pulled out a little Kodak Instamatic and Brad snapped my picture, along side the highway, in the dark, in front of the sign. The more things change, the more they stay the same. We pulled our little convoy off to the side of the highway as I ran up to stand in front of the Burley Paul exit sign for my photo opp. Like so many years back, I gave it my best
victory dance and thought to myself, this is what separates us from the lower primates; the ability to make friendships that last, friends who stick with you, who don't mind your flaws, who stand beside you no matter what and who after more miles and years than I can remember still don't mind a little foolishness in front of a road sign… Oh and that opposable thumb thing too.
We began the day in Moab and pulled off for the night in Twin Falls, no where near where we thought we would be 24 hours earlier. We're just flowing with the change, letting it wash over us and having the adventure of our lives.