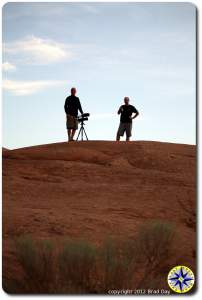 It's hot. Hot hot. Hotter than a sheriff's pistol, my dad used to say. "It's not hell," he might have added, "but you can see it from here." It's hot and I'm getting hotter. I can't seem to get my mind or hands to shorten this rope. Crap. I can hardly stand. I'm fading fast…. When did I become too stupid to live?
Stand on a bridge before the cavern of night
Darkness alive with possibility
Nose to this wind full of twinkling lights
Trying to catch the scent of what's coming to be
~ Bruce Cockburn, "World of Wonders"
We arrived in Moab, descending from the La Sal mountains along Kokopelli's Trail, with much anticipation. The many days — and nights — of driving behind us have lead us here. It's been Yet Another Long Day on the trail, and so after making camp in the shadow of Little Lion's Back in Sand Flats and getting our bellies comfortably full, Brad and I leave Facebook, scorpions and the cavernous night to Paul (the Other Other Paul).
The morning air was warm but comfortable. Comfortable, at least, until the sun crept above the slickrock. Now it's hot and sticky and unpleasant. And so we quickly pack up for the day and head into town in search of Paul's Next Mobile Office: some place that's cool, brews good coffee and has free wifi. (If there's a good power source, this might be our lunch stop, too.) After a couple of stabs, we land at the Wake and Bake Cafe, which proves to be a fantastic spot on this mid-week morning.
Fueling up on some wicked good breakfast tacos, I turn my attention to trail selection. I've been staring at the business end of an FJ Cruiser for what seems like weeks, eating its dust. Now we get down to different sort of wheelin'! Honestly, I don't really have much experience in Moab, and we don't have much time as the schedule has us finishing up this leg of the Utah Backcountry Discovery Route tomorrow and scooting over to Ouray, CO to meet up with our friends from Metal Tech. I settle on Strike Ravine, a middling trail south of town that has a couple of more challenging sections and some interesting scenery and other points of interest — including several old uranium mines — as it loops its way through Area BFE. (Red Rock 4-Wheelers rate the trail a 5 on their scale.) It's not a trail that screams Moab, but I've run it before and it should provide a slower, more technical counterpoint to much of the driving we've done to this point (which has also been a blast). Time permitting, we can get some slickrock driving back towards camp.
The most significant obstacle on Strike Ravine — the Big Ugly — comes up fast: a long, steep, rocky climb on a thick bed of loose dirt. Keeping a solid footing while walking the Big Ugly can be tough enough; you can expect that pushing two or three tons up the same surface won't fare much better.
We slide pretty smartly through the first half of the Big Ugly with just a touch of rear locker. And then the Blue Bunny got stuck. Not so much stuck, really, as poised expectantly for good old-fashioned, wholesale, better-prepare-the-missus carnage. Midway through the upper half of the Ugly is a good-sized boulder, maybe three and a half feet tall and a couple of feet around the middle, roughly bisecting the trail. The most viable line (without going off-trail and off-camber) is on the downhill side, though another cluster of decent-sized rocks ahead on the downhill edge of the trail sits waiting to thwart progress of the left front tire of vehicles that swing too wide of the boulder.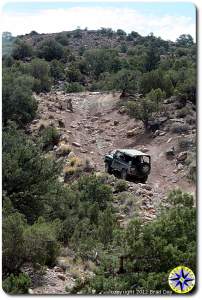 The narrow stance and short wheelbase of the D90 allows it to scoot through without putting slider to rock. But the FJ Cruiser is wider, and with a long-travel front end, the Blue Bunny is wider still. It's no surprise, then, that the Bunny starts by swinging wide and finding that cluster of rocks on the driver's side. A couple of additional attempts and a clutch mishap later, Ol' Blue has come to rest not so nicely on our boulder, squarely in the center of the passenger side door.
And then things went sideways. I thought I'd been keeping hydrated. Doubtful. I thought I was taking things slow. Nope. I've already bounced down and up this hill a few times. Now I'm lugging recovery gear and trying to get things in place to get Paul clear of this stupid rock while he keeps control of his rig and Brad is pinned in. Before I know it I'm fading like a bad memory. There's a conspicuous absence of shade, and though I try to rest, I soon find that I'm having a hard time staying upright. Brad climbs out of the window (more Dukes of Hazard than Jeff Gordon, perhaps, but still a fine feat) and I crawl off the trail and under a scraggly Utah juniper. The guy doing the vehicle recovery now needs to be recovered himself.
This might be a good time to write about proper hydration and energy conservation in the heat. Maybe, but not today. The real problem here, I think, stems from a lack of solid situational thinking, in at least two ways. The first has to do with advanced preparation. This is clear 7Ps territory, focusing on the full extent of the trip, which in this case has covered multiple climates. This isn't so much living in the moment, but keeping the moments to come in clear view, so that those situations don't take us by surprise. This needn't become incessant, paralyzing (over) planning for its own sake. But I likely should have spent as much time planning for ways of handling the Moab heat (in a truck with non-optionally heated seats) as fussing over which top to use and how to stay dry.
Of course, preparation is one thing; actually applying that planning — or otherwise thinking clearly — in the moment can be quite another. Having water isn't the same as drinking it, or tracking intake. Even developing a good stuck assessment on the fly doesn't imply that one will pick an appropriate recovery plan for the situation at hand. Hand winching with a farm jack might be cool and all, but a straight-line pull with a winch would expend a lot less human energy, especially when conserving the latter is important. In that case, slowing down enough to make a good survey of available equipment and options is crucial. Who knows? Maybe there's an access road leading off the trail that wasn't initially apparent on first glance that would provide more interesting avenues for recovery. Stop and look!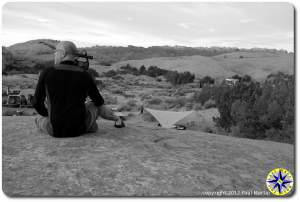 There's much more to be said here, but let me end with this: Surround yourself with good people. People with skills, no doubt, but also heart. I can't begin to say how fortunate I am to have been on this trip with Paul and Brad, both of whom stepped in deftly to help keep me from going nose down. Together they helped me get myself together, off the trail and eventually home safely. Of course we got the Bunny out of harm's way as well, and while it's always a clear goal not to wreck the trucks, at the end of the day, it's people over stuff. I hadn't really known Brad before this trip, so I'm very pleased to have spent some good times with him on this trip (among many other things, botching camp fires, eating some questionable food and sharing a nice, air-conditioned ride out of Moab on the first leg home), and hope to see him on the trail again soon. And while I've spent a decent bit of time wheeling with Paul, I've never been more impressed (or proud) of him than I was here. I should tell him that, even if he roots for the wrong college football team.
————————-
This story is Other Paul's perspective on our Moab off-road adventure day-7. It was a very complicated day and a story that you deserve to hear in his voice.
————————-