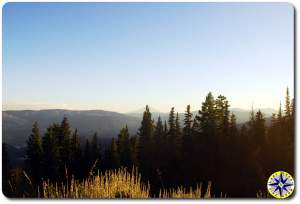 Early this morning the sun was shining.  I was laying in my cot,  thinking how she's changed, remembering her chestnut hair and the sparkle in her eyes that had caught me from across the bar more than 20 years ago…
This was our second attempt to complete the first two legs of the Washington Backroads Discovery Route.  You remember the first attempt ended prematurely when we were turned back by snow at the passes…  No?  Here (WABDR off-road adventure fail) we're moving fast so catchup.  This time the snow was gone, the weather was here and Hula Betty is beautiful.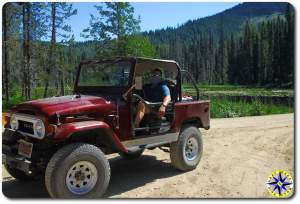 Like before the other Paul and Chris met us just outside of Stevenson WA.  Any camp ground that has RV anywhere is the name is not exactly the middle of nowhere… camps sits stacked on top of each other,  conversations carrying from inside tents and kids racing up and down the trails to the toilets.   But we were sitting by our fire  telling tails of adventures past, planning our next morning and sleeping under the stars.  Besides, where we were heading this weekend would keep us well off the beaten path.
Snow is not a problem in August.  Dust is a problem in August.  Paul in his D90 and Chris in his FJ40 were going open air with just a top to keep the 90 plus degree sun off their back.  One of my favorite things about wheeling is driving with the windows all down feeling the cool breeze and warm sun on my skin.  Air conditions doesn't suck.  With all the dust I fell in behind everyone, rolled up the windows, cranked the AC and blew the iPod throughout the cabin.  What it lacks in getting back to nature it more than makes up for in comfort.  And every time Chris wipe off a layer of dirt and grim from his brow…  I remembered I was suffering in the back of the convoy so he and Paul wouldn't be eating my dust…  such a giver.
The back roads took us through the Gifford Pinchot National Forest with St. Hellen's and Rainer peaking through the trees as we weaved our way north.  Leg one ends at Packwood.  You have to look hard on the map to find the dot that is the little town of Packwood.  Population just over a 1,000, a gas station, a few art galleries, a cowboy coffee shack, more real-estate agencies than you can shake a stick at and a burger joint define this little town.  Our tanks were low and the stop  for fuel felt good.  Off-road adventures only get better when your directed to a secret local landmark that serves handcrafted double bacon cheese burgers, spicy fries and thick shakes. There is something about sitting around a picnic table with a basket of burgers and fries that forces laughs and good conversations.  The sun was still high in the sky as we revved up our engines and took to a long stretch of black top, heading to our next unending stretch of dirt.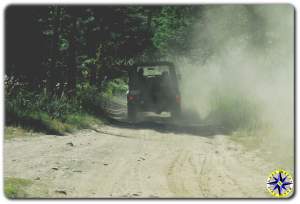 I don't dream when I sleep, driving on adventures is when I explore the recesses of my mind.  There is no structure to my internal conversations, recalling unrequited love, considering the value of a business proposal, debating new rear gearing choices or pondering the usefulness of  the Pythagorean theorem.
Leg two of the WABDR transitions from forest roads to 4×4 trail and two track.  Making our way to Bear Lake for camp, the low sun reflected off the dust our rigs tossed in the air creating an aura of burnt orange around each rig.  The hard pan, heavily rutted trail alternated between tight wooded twists and barren, vista exposed plateau edges.
Rolling into Bear Lake under the cover of darkness we found the solitude and rustic camp sites we were looking for.  Flat ground was a little harder to find and forget spotting an outhouse…  this was a dig your own hole camp.  With the sun long gone, setting up camp was a headlamp affair.  The heat of the day now gave way to a cool evening making the camp fire a welcome addition to our evening conversations.  Around the fire, Chris could barely contain his smile as he recounted how well his FJ40 was working it maiden adventure.  Chris has spent the last year rebuilding just about everything on his rig (we liked the Metal Tech tube doors) and despite the fourteen layers of dirt he was wearing, we all new he wouldn't trade the experience of this trip for anything.
I could feel the cool morning dew on my face as I laid on my cot waiting for the sun warm up my bones enough to crawl out of the bag.  My mind wondering back twenty some years, the calm morning air carried song birds' whistles to me, in hi-def clarity, encouraging me to join them and begin the days activities.
As we all cook breakfast I was reminded of the difference between participating in life and committing to live life to the fullest.  When it comes to a breakfast of bacon and eggs, the chickens participate in the process…  Pigs on the other hand are fully committed.
When I think adventure, images of rigs meandering down a lone track through that magical space between isolation and solitude.  As we made our way north, we found this thin line.  The trail clearly showed less and less evidence of use until we eventually arrive at the point where mother nature reclaimed the road.  The tracks were replaced by ribbons of grass, young saplings filled the spaces where rigs once rolled and the only signs that life had been where we stood, were piles of bear scat marking this as their territory now.
After considering our options we decided to respect the line of demarcation mother nature had thrown down and retraced our tracks 30 miles back to find a new route out.  The west has always had a relationship between, public BLM lands and private livestock owners.  Rounding a bend in the road, we shared in this relationship, finding our little convoy surrounded by hundreds of sheep moving from one grazing area to the next.  We couldn't help be smile as we slowed down to a snails crawl picking our way through the herd and considering the cowboy life that still can be found in the west.
Our convoy finally popped onto the highway a few mile from Whistlin' Jack lodge just in time for dinner.  Although the help was a little taken aback by our rag tag appearance, the hot meal and clean toilets made this another perfect stop before hitting highway 410 that would take us up over Mt Rainier back to home.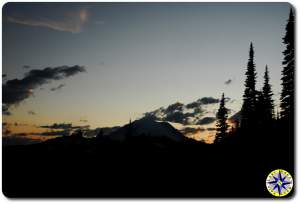 The WABDR promises mind-boggling variety of terrain and scenery and so far we've not been disappointed.  Still in front of us are two more legs that promise to take us even further into Washington's back roads.  There are no shortages of adventures locally in the northwest to fill our calendar.  Where we find our next adventure is anyone's guess but I swear I saw Hula Betty peering  longingly in the direction of leg three.