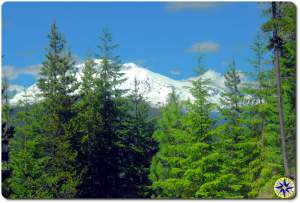 The Washington Backcountry Discovery Route (WABDR) is a  collection of routes across Washington State from Oregon to Canada that winds through the rugged Cascade Mountain Range. The 600-mile route follows a connection of mostly unpaved forest roads that can be driven in high-clearance 4×4 vehicles.  That's the brochure. The truth gets even better…
Hula Betty and I aimed the blue bunny at Oregon's Cascade Locks, spending the night in a little KOA camp a stone's throw from the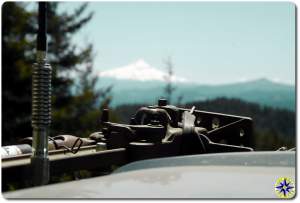 Bridge of the Gods.  This adventure was planned as an easy shakedown run with Paul (the other Paul) and Chris, two friends I've been lucky enough to wheel with on several occasions.
Leg one of the WABDR mianders from Oregon's Bridge of the Gods to Packwood, WA, the self proclaimed gateway to Mt. Rainier, Mount St. Helens, and the Gifford Pinchot National Forest.  The route stitches together dozens of forest roads zigging and zagging, as it climbs the foot hills surrounding Mt. Adams, Mount St. Helens and Rainier.  
Our day started out perfect with robin egg blue skies, fleecy white clouds, soft warm rays of light and gentle breezes on our back as the three rigs explored the dusty back roads.
The northwest is fill with forest roads the state carved out to aid logging efforts, which usually means huge swaths of clear-cuts creating a patch work quilt of brown and green.  However, Mother Nature is resilient and she has taken back the hills replacing the brown spaces with lush new groves of young green trees, framing up postcard perfect views of the mountains.  And where there are mountains, there is snow.
This last winter brought record snow fall and 80 miles into this first leg we found the snow.  At 4,500 feet the snow patches stretched across the roads, crusty on top, squish underneath and very very slick all the way through.  Initially we crashed through the first couple of snow patches but as we climbed higher the snow began to get deeper and catch hold of our rigs, refusing to let us pass.  Out came the shovels, we'd dig, rock the rigs back and forth and dig some more until the snow released its icy grip.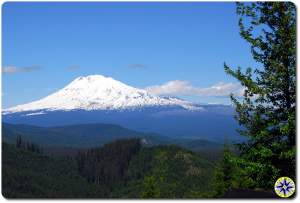 After spending three hours to cover a half mile of trail we agreed something had to change.  Hungary and frustrated we decided it was time to eat a hot meal and come up with a new plan of attack.
You never know where you'll find a diamond in the rough.  Trout Lake is just a foot note on the map, in the middle of huckleberry county with a remarkable cafe that servers everything huckleberry…  huckleberry pie, huckleberry shakes, huckleberry flapjacks, huckleberry scones, huckleberry muffins… you name it and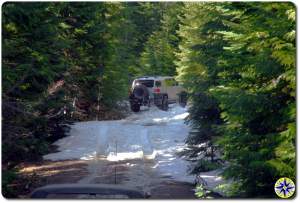 you can have it with huckleberries.  Pushing the door open, we found the rustic little cafe full of locals and tourists.  The walls were filled with old license plates, historic town pictures and gas station signs dating back to 50s.   The smell of burgers, fries, and tonight's roast beef special hung in the air, cut by laughter and conversation which seemed to infectiously jump from table to table as the waitress made her rounds.
Over burgers, onion rings, sweet potato fries, iced tea and huckleberry cheese cake we talked through the day's adventure and schemed how we would manage to make Packwood without doubling back to Oregon.  Full and re-energized with a plan, the only thing left for tonight was to find a place to lay down our bedrolls.  Stepping out of the cafe we found the sun well below the mountains and with darkness giving way to starlight we headed to a campground just outside of town.
It's hard to oversleep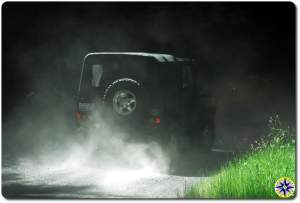 when you're camping… The sun has a way of letting you know it's morning shining directly into your eyes no matter how many layers of tent, sleeping bag and beany you try to put in the way.  The screeching of crows piercing the air calls to you in your dreams more clearly than any alarm clock back home.  It is only 6:00 a.m. and we're burning daylight.  Morning around camp is a time when anything is possible.  Its a new day, a new opportunity to explore and a chance to try those huckleberry flapjacks. Packed up it was back in Trout Lake and the little cafe before heading into the hills.
Our plan was simple, try a few different forest roads that appeared to skirt the hills at elevations lower than 4,500 ft. hoping to avoid the snow.  Twenty miles out of town and coming around the corner of a little forest road spur we found more snow… this road too was not going Packwood.  At least not this time of year.  No problem though, we would come back down a couple of miles rejoin the main forest road and see if the next spur showed any more promise.
On the way up we had passed a few bicyclists struggling against gravity, peddling their way up the steep incline.  At the point where we rejoined the main forest road the bicyclists where now waving their hands wildly to grab our attention.  One of their bikes had blown a tire.  No spare, no other cars, no other people, we were their only hope for a ride to anywhere.  Tossing their bikes on the roof and making room for two riders in our rigs we headed 20 miles, in the opposite direction of our goal, back to Trout Lake, scooping up a little Karma along the way.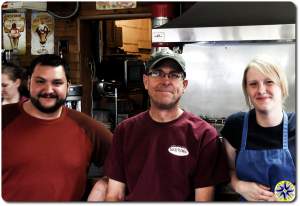 Back in Trout Lake, again meant we had an excuse to try the huckleberry shakes… Like you really need an excuse for huckleberry milk shakes.  By now the staff recognized us and gave a greeting reserved for old friends as we wallaced in for the third time in two days.  Chatting with the owners it was clear, we would run into snow if we tried to use any of the forest road over the mountain passes.  The only way out for us was back the way we came.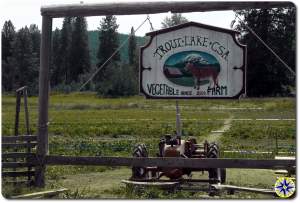 We had started this adventure planning to cover two hundred miles, finishing two legs of the WABDR and ending up in Ellensburge.  Instead we were turned back, several times, only 80 miles in and now driving to where we started just outside the Cascade Locks.  But this weekend was anything but a loss, we had met new friends, help fellow travelers out of a jam, camped under the stars, seen the beauty of the northwest, indulged in great food, and shared the company of good friends.  We'll be back.  In fact we've already started planning our next attempt.