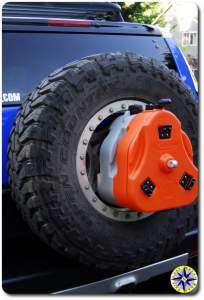 Long off-road adventures mean you are carrying what you need…  tools, parts, recovery gear, fluids or anything else you may require to be self sufficient.  But where do you put it all so that you don't have to dig through your entire truck to get to it when you need it?
We are always looking for ways to store stuff so that is it organizes, accessible, and safe.  Our friends over at Auto Anything sent us a set of Daystar Cam Cans to try out.
Cam Cans are an ingenious way of providing storage space for liquids (antifreeze, water, oil, and other fluids) or trail tools on the outside of your rig so they remain easily accessible.  Their tech says "All containers are constructed of Daystar's patented polyurethane construction which makes them resistant to warping, crushing, or degrading from UV rays and the elements." We found them to be pretty durable as they got kick around the garage for several weeks while we waited for our off-road FJ Cruiser to return so we could mount them up.
The containers mount to the spare tire where you can carry one or two Cam Cans locked together.  We opted for a water storage  (you can go a long time without food but run out of water and it gets ugly fast) and the blaze orange tool box.  There is a green for other fluids.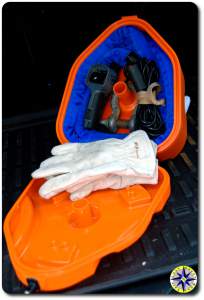 Mounting them up is simple and only takes a few minutes to replace the lugs on the spare with Daystar's mounting kit hardware.  Each container slides on, twists and their cams (hence the name) locks into place.  No tools required to access them on the trail, just twist and slide off.
We have started carrying our basic recovery kit (tree strap, shackle, gloves, and winch remote) in the tool box so that what we need most to get unstuck is quickly and easily accessible.  We can also throw a muddy strap back in the Cam Can tool box when were done and not worry about making a mess in the back of the rig.
And while we hope we are not digging into our recover gear too much, it is nice to know it will be right at our finger tips when we need it and out of the way when we don't.
If you want to see their introduction at SEMA, here you go