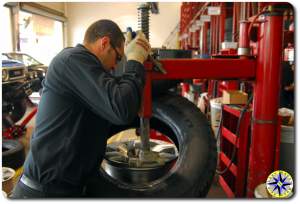 After 65,000 miles it was time for some new tires…  These things don't last forever you know.  Take a quick tour of the Internet and you quickly discover there are lots of choices out there so we had some decisions to make.
The Blue Bunny is part daily driver, part extreme off-road rig and part overland explorer which means we needed a tire that feels at home in all sorts of conditions including the rain and snow of the pacific northwest.  With this in mind we decided to turn to a pro and give Travis over at Discount Tires a call…  Ok really we just emailed him since it was 2:00 am, but let me tell the story in my own way.  After a few email exchanges back and forth as well as a real call to discuss what we wanted out these tires Travis had a suggestion for us.  He had just returned from the 2010 North America JK Experience where he had seen tires put through their paces in the one of the toughest Jeep challenges anywhere.
Newly developed by Falken the Rocky Mountain ATS tire delivers tough off-road traction while at the same time providing highway comfort and handling. Rugged design and long tread life makes it an exceptional value. Our 285/70/17 size (Rocky Mountain is available in 15-inch to 20-inch sizes) feature a 3-ply sidewall construction for great off-road durability.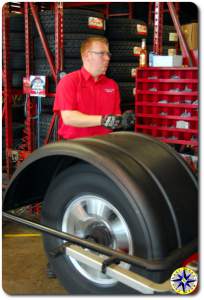 Some of the features Travis pointed out included:
Four wide, aggressive multi-angled grooves for clearing out water, mud and snow
Block tread edges providing solid traction and control
Smooth quite ride (remember the Blue Bunny still serves daily driving duties)
Two steel belts and 3-ply sidewalls for protection and strength
50,000 mile tread life warranty
Now as everyone knows, tires are only as good as the dealer who stands behind them.  Discount Tires has 750 stores in 22 states making it the world's largest independent tire and wheel retailer today.  These guys will also drop ship tires directly to your doorstep if you plan on mounting them yourself or at another local tire shop.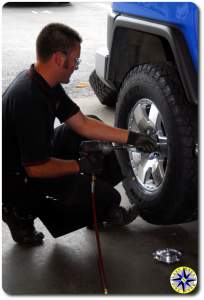 We headed down to our local Discount Tire dealer in Bremerton, WA. where Nick and the guys took care of us.  One of the cool things about showing up with a handful camera gear is that it gets you into places that are normally off limits.  With the rig in the bay we got to go back and see everything as the guys quickly went to work.  Sure on the trail you can break a tire bead and pull it off a wheel with a hi-lift jack but when professionals mount tires they get to use all the cool tools.
In no time the guys had the new rubber mounted on our original stock rims and were throwing them on the balancing machine.  You really do have to credit the guy who figured out how to apply centrifugal force and computers together in a way that would perfectly balance all that alloy and rubber.
Ok I know I'm gushing a little but really the crew there was great.  We chatted about some of the adventures we'd been on and a couple still in the planning stages.  We talked tires… go figure…  and got to see how it all works behind the scenes.  While this wasn't an NASCAR pit time, they did have us in and out in less than thirty minutes.  And remember that stand behind the tire thing.  These guys warrant their tires from any of those 750 stores across the country.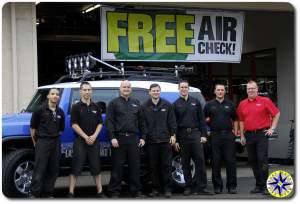 The first thing you notice…  dang these are smooth and quiet on the highway…  For a while now I thought I've been loosing my hearing having to crank the stereo up to obscene levels to hear it over the road noise…  But no more.  I can now enjoy the stereo and carry on a conversation cruising down the highway.  They also hold the road well and let us carve through the corners without worry…  Remember though we are in a rig not a Porsche so our carving is relative…  but it feels good through the corners.  And on a short jaunt down some two tracks the tires responded nicely.  Not to mention they look pretty sick on the rig.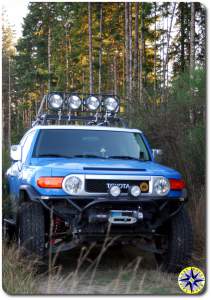 Of course we plan on putting these Falken Rocky Mountain ATS through more serious off-road tests soon and we'll let you know how well they hold up to the trails, mud and snow.  Look for a longer term review soon but for now these are looking like a good all-terrain choice.
—– follow up —-
Well after a bunch of miles we put up the results of our Tire Test of Falken Rocky Mountain All-Terrains.  Check out the video and write up for more info.