Every try to read a map at night by your dome light?  How about trying to find something in your console at night?  The Toyota FJ Cruiser OEM dome light may give you a warm glow, but bright light you can read by is not its strength.
One of the easiest FJ Cruiser modifications  you can perform that pays big dividends is to replace the interior dome lights with new bright white LED chip-sets.
We picked up a Putco LED Lighting "980018 premium interior dome light kit".  The kit included a pair (one for the front and one for the rear) of LED white light chip-sets.  The chip-set fits the original dome light fixture and is designed as a direct bulb replacement.  With three LEDs on the chip-set, it puts out approximately 18 times more light than the original bulb, an increase that you can definitely notice.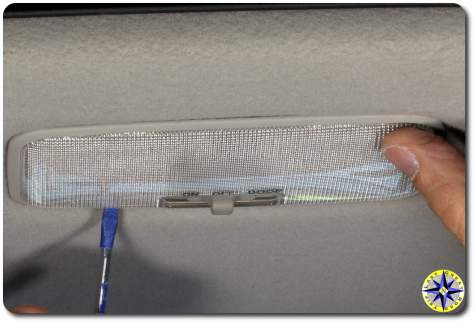 Start by removing the cover.  Using a screwdriver with its tip wrapped in tape, disengage the 4 claws and remove the light's lens cover.
Remove the old bulb from the socket.
Press the LED chip-set into the bulb socket
Replace the cover.
It really is that easy.  Your new dome light(s) will be significantly brighter, use less energy and provide a whiter light.
No this mod wont help you climb over rocks or pull you through gumbo thick mud but it will help you find that last handful of nuts you dropped on the floor of the cab before the three second rule kicks in.