One of my favorite times during a overland adventure is early morning.  Sun rising over camp, quiet in the air, warm coffee and anything is possible.  And I get to cook breakfast!  I love to cook.
My all time go to favorite camp breakfast, huevos ranchero. Hearty, probably not that healthy but oh so very tasty.  Let face it, really anything with chorizo and eggs is going to come out good and can't really be screwed up…  although there was the "chorizo surprise" debacle a few years back.
The secret to this breakfast delight is in the chorizo…  It can't be that farmstead, grass-fed, dry-aged, loin-based, hand-rubbed, hipster chorizo.  No, this has to be the chorizo of my people, true Mexican chorizo, made from grinding up pork salivary glands, lymph nodes and fat with spices that cooks down to delicious, spicy, coagulated, crimson oily paste.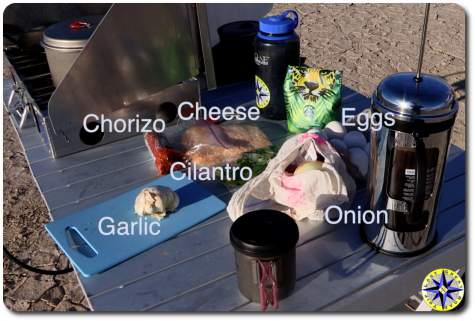 If you're looking for an exact recipe, give Betty Crocker a call.  I roll pretty loose… This is it:
Get the stove going… and keep the heat on the low side as you cook down the chorizo in a heavy skillet.  Keep it moving, don't let it burn.
After a few minutes, add a handful of chopped onions and continue to cook (and stir) until the onions take on a translucent state.
Next add a minced garlic clove, giving a few more stirs.
Toss in a bunch of chopped cilantro and mix it in.
Pull the mix to the sides of the skillet making room to cook the eggs. (fry or scramble the way you like)
When the eggs are ready, remove from the heat and sprinkle everything with grated cheese.  Any good Cheddar, Jack, Queso Fresco, Queso Anejo, Cotija, Oaxaca, Panela, Asadero will do. Cheese is its own food group in my mind.
Serve on a plate, wrapped in a flower tortilla, over a corn tostada shell and drizzle a little hot sauce over everything.
This is really just the base.  You can add in fried potatoes, poblano or anaheim peppers, or diced tomatoes to make the huevos rancheros your own.