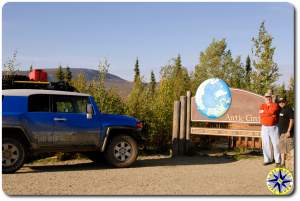 Start: Wiseman, Alaska
Finish: Fairbanks, Alaska
Miles today: 217
Total Miles: 2584
Big Game Count:0
First lets get the important things out of the way: Oklahoma 79 the other guys 10. Go Big Red! College football started today. It is a great day!
When there is no electricity and it is raining you go to bed early and get up early. I awoke to a thud and found Dad and his mattress on the floor. That is how our day started out in the cabin. You knew it just had to get better from there.
Coldfoot camp is open 24 hours a day. That is good since we headed right over to there when we left Wiseman at zero dark thirty. A good breakfast and a full tank of gas are a great way to brighten an overcast rainy morning.
Driving back through the Alaskan bush this time we took advantage of the sites we picked out on the way up. For example, Grayling lake is a beautiful spot and famed for its fishing. We had scouted it on the way up and I wanted to wet a line on the way south. I am not a lake fishing guy and with the lake surrounded by trees up to the shoreline, casting was not easy. Fish 1, Me 0.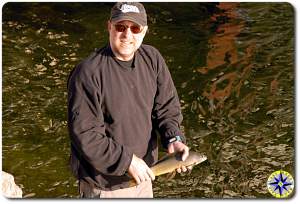 I get rivers. When we pulled up to Jim River 3, yes there is a Jim River 2 and 1, I knew this had potential. With the third cast I was into a very nice Arctic Grayling and before long I had him landed and released back into the water. The Arctic Grayling has always been one of the fish on my list to cast too but until now I've never been near water that held them. This morning was continuing to improve.
When you go north up into the Arctic Circle, you have to come back out the same way. This was our second crossing of the famed latitude. This time there were no fly or mosquito swarms about so we lingered a little, read the plaques and checked out some of the rustic camp sites.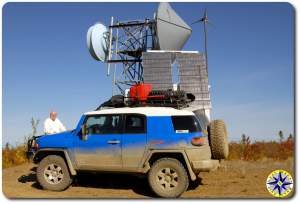 Why are there Economists? To make weathermen appear more accurate. When you're on the road weather matters, and it doesn't. You would like it to be sunny and blue sky but the rain can be refreshing as well. So how do the weathermen get their data to make their predictions? Well on the Dalton Highway it stations like this that relay information back. Ok this is a little geeky but since Dad and I went exploring the different two tracks off the highway we have found all sorts of cool stuff like this.
The last fuel stop coming south, or the first going north is Yukon Crossing, on what else but the Yukon river. This place is part of the life line of Haul Road. You can fuel up, get a bite to eat and pick up a t-shirt. And that is exactly what we did. But you guessed it, Mike and I did a little horse trading and I ended up with a cool Yukon River Camp t-shirt.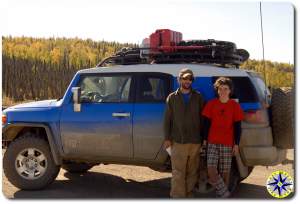 A few days back when we first stopped at the Arctic Circle marker we met to friends Jason and Vadimira. They were heading up into the Brooks Range for some camping. Vadimira is from Slovakia working in Anchorage as an Au Pair for the summer. With a week off she and Jason decided to do a little camping and see how far north they could go. They also brought the dog… big and lovable.
We'd seen their truck a number of times and finally caught back up with them at Yukon Crossing and than again at a scenic look out. With all this crisscrossing of paths we decided we needed a picture of them and they could use a Last Great Road Trip shirt.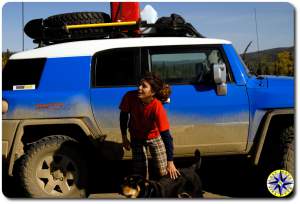 Well we left the Haul Road and are back on the main highway again. We rolled into Fairbanks found a hotel and a car wash. The rig was wearing a thick layer of the Dalton Highway. The road contains a chemical to stabilize the gravel, mud and rubber mix that is a bit corrosive so getting it off is important. Washing off the Haul Road took $28 in quarters. Now to go and put so new dirt on the rig.
We want to thank Mary of Working Web Solutions (WWS), Web Design Portland, Oregon who has been reviewing and correcting the grammatical errors on these posts… but as so many pointed out…  maybe we could use a new editor. WWS also performed a little search engine optimization so we should be easier for you to find.
Mike: Wow we have not been gone from your place for more than an hour and you already found us on-line. Thank you so much for the t-shirt trade and travel wishes. Have a great weekend.
John: Thanks for the sooner update. I know you have my back.
Kara: Thanks for the birthday wishes. Hope you guys are having fun on your trip in CA.
Joyce: You remembered my b-day, I'm touched. With all your friends and you still remember my birthday… Thank you, your still our number one fan.