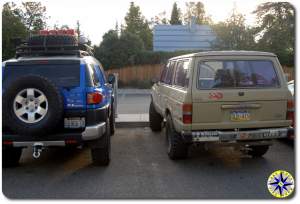 Two generations has referred to Dad and I. When we awoke this morning we found two generations of Toyota.
Back tracking from Fairbanks to Tok was uneventful… and when I say uneventful I mean Dad napped most of the time for the first 150 miles. Dad claimed to be resting his eyes and throwing out a couple of snores now and than to keep me attentive to the road. This simply meant there was a lot of me time to enjoy the road. Today there was significantly less traffic then a few days back making the me time absolutely just myself.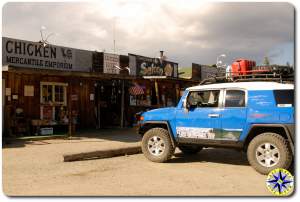 After Tok we headed to Chicken. And as the 1/2 day post said there is no electricity, no water and no indoor plumbing. There are generators, water tankers, solar collectors and free WiFi Internet. The road to Chicken falls into the category of washboard gravel with patch of asphalt. The road makes Chicken a welcome stop for lunch and world famous pie… Really the pie is world famous and very very very good. Dad had apple while I enjoyed the blueberry pie. Surprisingly there are multiple Chicken want-a-bees. There is the historic Chicken, there is the "Town of Chicken" there is even a "Chicken Creek". Anything for a buck, buck. Since they are all within a block of each other, we saw them all just to make sure we had the whole chicken experience.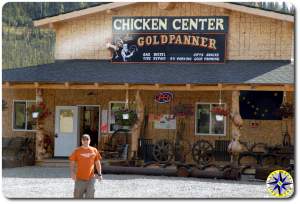 After you leave Chicken you head to the Canadian boarder. The road winds through long time mining activities. These guys take mining seriously since many make a living on their claims. As we climbed out of the valley and approached the boarder we took the turnout only 1000 meters from the crossing to take a last look at Alaska. It is so cool having a car that draws people in. We are in the middle of no where looking over the mountains and a couple pulls in so they can get a look at the rig (ok maybe the breathtaking scenic view). Mike and Martha are from Germany on a drive through the Northwest. They rented a truck and have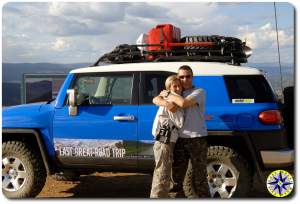 driven south east Alaska, Denali park and are now, like us, heading to the Dempster Highway. Mike was great, he is thinking about getting an FJ so he was full of questions about how it rides and handles. He also let us know about the roads he'd traveled in Australia. With any luck we'll see them again on the Dempster.
When you cross the boarder the highway becomes the "Top of the World" highway. You drive the gravel along the mountain ridge tops giving you views for miles in all directions with very few other vehicles anywhere on the road. There are no guard rails so you don't want to enjoy the view too much.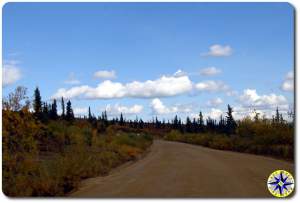 If you're going to get a 4×4 rig, give it an injection of testosterone with butch mods, you really need to take it further off road than the mall. All along the Top of the World highway were these two tracks heading up to the top of the next peak. Dad and I decided to take a random turn and follow one of the two tracks. What started out pretty tame turned into a fun little trail run to the top of a bluff a couple of miles in. We know others have been here before us, but we can't help but consider how lucky we are to be in a place and looking out over what most others never will.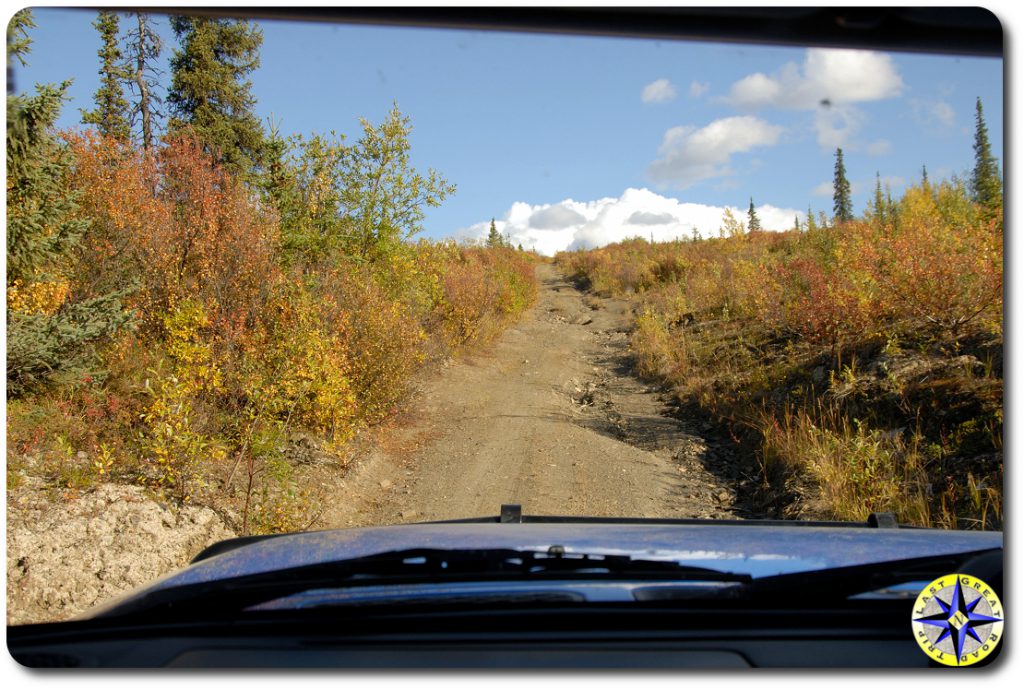 Dad and I used to hike… This is much easier… Grasping a moment for a little trail run is what makes this a great adventure instead of a forced march.
Dawson City is our goal for the night. The last 1/4 of a mile require a ferry. This is not like the Seattle ferry… This ferry runs 7×24 on a demand basis. When the ferry is ready to leave, it hurls itself into the current of the Yukon River and the captain guns the engine to start heading across. You quickly notice you are being pulled down stream as the massive engines burp smoke and churn the water to gain a foothold against the current. This is the same way they have been crossing the river for centuries so who are we to go against tradition.
We did not have a reservation in Dawson City and it turns out today was the annual outhouse races. That means all the hotels in town were booked up. We did manage to find a room just out of town…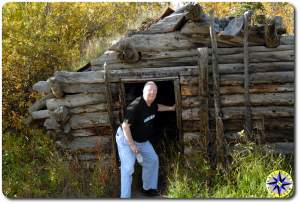 … it even has indoor plumbing (have to be specific out here), HBO and free WiFi. We wandered back to town and had dinner at the oldest working casino in North America, Diamond Tooth Gerties. What happens at Diamond Tooth Gerties…  Stays at Diamond Tooth Gerties.
Mary: Dad is sleeping in a warm cozy bed every night… I get the futon, roll-away or what ever is left over.