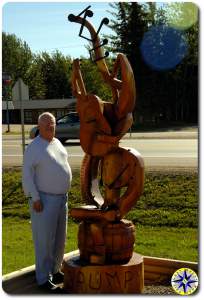 Start: Dawson Creek, BC
Finish: Williams Lake, BC
Mileage today:380
Mileage total: 5423
Moose: 1
Mule Deer: 2
Yesterday was my Mom's birthday. Today is Mom and Dad's Anniversary. As the story goes… Mom did not want to be a teenage bride so she celebrated her 20th birthday and the next day they were married . That was 46 years ago. Although I did drag Dad north on Mom's birthday and their anniversary… He called… They talked… All is well… I guess after 46 years you have these things worked out.
Ok we might not have the most healthy diet… Started with donuts and than stopped in at A&W for a big frosty one. Dad really likes A&W root beer and there are drive-ins all over Canada. They still serve their root beer in a big old frosty glass mug. The A&W we stopped at was in Chetwynd, BC. and it turns out Chetwynd is the chainsaw carving capital of the world… The carvings are everywhere throughout the town. Dad and I strolled around looking at all of them and comparing them to the carvings in Ocean Shores. We saw one on display that had won first prize and the artist was from Washington state.
You know the leashes they have for little kids so they won't wonder off from their parent while shopping or walking in the park. I'm going to market one for adults. We have seen some pretty large, aggressive, and potentially dangerous animals including Grizzly Bear, Bison and Moose. Each time we see them I turn for the camera and than have to turn back for Dad. The other day with the bison, Dad had jumped out and was walking back to the rear of the rig for a better view while the bison were all around us only 20 feet away. I was in the driver's seat staring down a big bison cow who was grunting and kicking the ground at me while snot was flying from her nose because Dad and the Rig were between her and her calf… During this I'm trying to calmly ask Dad to climb back in the rig and snap off an award winning photo.
Today I spotted a moose walking across the highway several hundred yards ahead of us. I pulled the rig off to the side where I thought I had seen it cross. As I am trying to maneuver off the highway so as not to be hit by the 18 wheeler bearing down on us and avoid the four foot drop-off on the side of the road's shoulder. While I'm balancing the rig between this rock and hard place knowing there is a full grown moose within yards of were we are that could charge the rig… Dad starts opening the door to jump out…
Dad is an adult so why worry? You've seen the pictures… Dad's mobility from zero to any speed is not what it once was and Mom made it pretty clear that she would hold me personally responsible for returning Dad to her in the same condition I found him in. That condition did not include any antler goring or claw marks. And since I did not opt for the extra damage insurance, I have to be careful with him.
Turns out we did get off to the side of the road. Dad looked out the window and spotted the moose stepping into the lake just below where we were. We did step out onto the highway's shoulder and watched the moose cross the shallow lake and disappear into bush. Dad and I spent five minutes together watching the moose as she took a step looked back at us… took a step… looked back… We did not even get a picture since we were having such a good time watching the moose move so easily through the lake.
With the ALCAN ending in Dawson Creek we switched over to highway 97 today. 97 is the highway we came up on to reach Prince Rupert. We went through some of these cities only two weeks ago and we could hardly remember them. I guess the good part about getting old… is that you can hide your own Easter Eggs.
Mary: We have all the amateur naturalists and tourists pamphlets. Dad reads them and than gives me the highlights. We also have the Milepost, a big, thick travel guide full of all kinds of key information.
John: Go Big Red. Glad you like the pictures. Yes 5K so today we had to get an oil change… The oil was only three weeks old but looking a little tired… The guys at the oil change shop thought the rig was cool. They were slow, so all of them were hovering, poking around underneath and asking about how we liked our FJ. These guys even pointed out some trails for us to go play on if we had some time.
Joyce: Now you can see the price I'm having to pay for all those close-ups that keep you coming back. I'm glad I could risk my Mom's wrath and Dad's life for your entertainment.