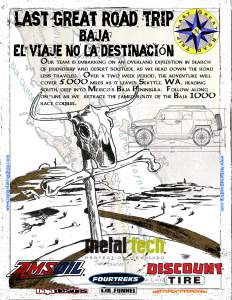 We've been trying to get down to "The" Baja for two years now… Our Baja off-road adventure has started, stumbled, been shut down, picked back up and now it looks like it is a reality.
When I was growing up the Baja 1000 was the place where legends were made and any one could give it a try. Guys like James Garner (Mr. Rockford Files himself), Steve McQueen, Ted Nugent, and Paul Newman raced the Baja in buggies competing against Average Joe who's kids doubled as pit crew with friends helping out. No multimillion dollar sponsors, just back yard mechanics who could build a solid buggy or bike. This was the peoples' race… at least for people crazy enough to endure 1,000 plus miles of desert hell and non-stop driving for 48 hours over what has to be the harshest course in the world. It always struck me that at the finish line all the racers said it was the most amazing experience… ever! Our goal isn't to win any race (that was back in November) but to follow the course more or less (after all we need to sneak off to get a little beach time along way) from Ensenada down to Cabo San Lucas.
Sitting here the night before we leave, my mind is racing. Did I pack enough? Did I pack too much? What haven't I check and double checked on the rig? Was the clutch feeling a little loose or was that my imagination? Did I let the folks who helped us get here like Metal Tech, Discount Tire and Beau Jaramillo from Amsoil know how grateful we are?  Why didn't I learn to speak more Spanish? Where are the maps, I want to look at them one more time. What happens if we run into trouble, it is just us. No support team, no caravan of rigs, no chase vehicles are going to follow up to tow us back. It's just us! But, that is the adventure.  We don't want to sit on the sidelines and watch.  We want to experience life.
I know tonight I wont sleep much, even if the first leg of this off-road adventure is only 250 miles from Seattle to Portland straight down I5. Tomorrow we start what I've been waiting a life time to experience. The Baja! I can't wait.