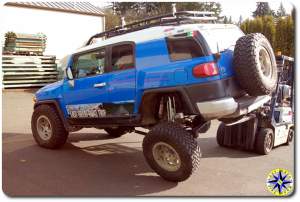 The second universal truth of the Buddha, and off-road adventures, is that everything is continuously changing. Our rig has been going through immense change.  Sure the changes are very bad ass…  but what is important, is to understand why we're making these changes.
Read through our website (go ahead, we'll wait) and you will see our rig, the Blue Bunny, has successfully taken us on many amazing off-road adventures so why would we change it.  Seven years ago, in order to go to the North Slope, AK we upgraded the suspension with a three inch lift relying on Sway-A-Way (SAW) coil-overs, rear shocks and springs.  We needed a suspension that could provide lift for larger tires, take constant jarring and improve the handling of our FJ Cruiser. These changes fit the bill for driving over 2,000 miles of nasty unpaved roads. But we wanted more travel to soak up the endless jarring of long off-road adventures.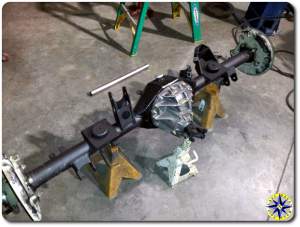 Chasing our desire for more travel and a smoother ride we upgraded to a  Total Chaos long travel kit and bigger set of SAWs coil-overs that extended the front travel from eight  to about 12 inches.  This upgrade made a huge difference as we crawled the Rubicon, bombed down Baja and wound our way on the Utah Backcountry Discovery Route or any number of local NW 4×4 trails.  But this front suspension upgrade left us wanting more for the rear.  While the front remained confident in everything we threw at it, the rear just couldn't keep up.  That is when we turned to LT from Metal Tech 4×4 and arranged for them to build a custom rear suspension that was worthy of our adventures.
LT went to work replacing our original axle with a Currie that was four inches wider than stock so it would match the width of our extended long travel front end.  The Curie is a bullet proof housing with huge axles that we will be hard pressed to damage.  A Ford 9″ third member  with 4.56:1 ring and pinion gears was mated up to the Currie.  We needed the gearing to gain back the power that has been lost with the bigger tires, armor and all the gear needed for long expeditions. A Ford 9″ is used extensively in desert racers because of it dependability and parts are readily available throughout the world.  An ARB air locker replaced the stock E-locker that was left behind in the stock third member. A custom rear drive shaft to direct power back to the new rear end completed the circuit.  All these changes were in response to our request for rock solid dependability.  But what about the suspension.
Stock FJ Cruisers come with a 4-link rear suspension and nine inches of travel.  LT replaced this with a custom 3-link.  Starting with Metal Tech's long travel lower link design, LT lengthened the design for our setup while still retaining all the engineering that has gone into Metal Tech's original design.  Our links incorporate 2 1/2″ forged Johny Joints® with 1 1/4″ threaded studs and tube steal capable of supporting the weight of the rig if it is drug over a rock, ensuring the lower links will remain true regardless of where we go.  The links were paired with Metal Tech long travel progressive springs and bump-stop off sets to maintain proper positioning as the rear axle travels the entire arc.  When it came to shocks we knew we needed both length and girth to give us the travel we desired and the stamina for endless rough dirt roads without fading.
With the extra width of the Currie, LT add outboard shock hoops to hold 2 1/2″ triple by-pass, remote reserve shocks from Sway-A-Way that are capable of 12″ of travel. 
By increasing the shock diameter from the 2″ to 2 1/2″ we equaled the dampening power of two, 2″ shocks and effectively doubling our previous setup's stamina. The by-pass feature will let us dial in both the rebound and compression dampening to match the terrain we are traveling on.  And what is good for the rear…
Up front we added another set of 2 1/2″ triple by-pass, remote reserve Sway-A-Way axillary shocks to our Total Chaos long travel so we can tune the front and share the load with the coil-overs.  And since the front transfer case was going to be pulled apart to match the gears in the rear, LT added an ARB locker up front giving us complete wheel locking capability front and rear if needed.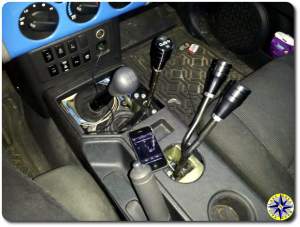 The Blue Bunny is a six speed manual and driving a manual off-road is all about having options in the gears.  We'd been thinking about changing out the transfer case for a number of years and since we had everything pulled apart it was time to make a decision.  High and low are pretty standard transfer case options and we could choose some crawler gears to improve control over gnarly trails but that is still a compromise since we face mud, sand and crawling over rock on our off-road adventures.  In order to ensure we can crawl slow, pull a load up a steep hill and still run with speed where we want, we chose an Atlas 4 speed.  The Atlas' planetary 2.72:1 reduction gear along with the 3.8:1 low range gear provides all sorts of options: H-H, H-L, L-H and L-L along with the ability to engage front or rear independently. You can do the math with all the gears involved to figure out our final crawl ratios but what it comes down to is we can now ooze slower than molasses over rocks, climb a tree fully loaded, sail over sand dunes and still drive to work.
There is a price for all these high end off-road modifications.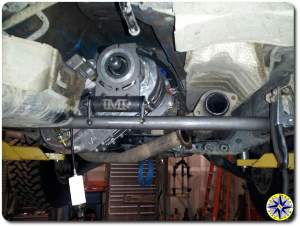 You're running with mods that take adjusting to get right and tune it all in.  These are not just drop in and forget it components.  But get it all right…  and wow!
No parts store has spare parts on the self for any of the custom work.  You are running a one of a kind rig.
You need to know how it all fits together, comes apart and then goes back together because no one else will.
You need to learn your rig all over again…  it's new sounds, feel and driving capabilities…  but that is half the fun.
When it comes to our off-road adventures we aren't satisfied with one style of wheeling, we love it all. Sure you can put together a purpose built rig that will exceed the Blue Bunny's capability on any one terrain but we think we've built a solid rig to conquer all terrains.  Of course there will be times when we'll have to finesse a situation or let a faster rig pass but with the trade offs we've made (like IFS for the desert over straight axle for rocks, or a short wheel base for maneuverability over tons of room for expedition gear that comes with a longer wheel base), the Blue Bunny should get us through anything we encounter as we continue to look for the last great road trips left in the world.