You may not believe me but going on off-road adventures, driving 4×4 trails, performing mods and conducting gear reviews is not as glamorous as it seems.
Take our upcoming article in 4WD Toyota Owner magazine.  The first set of action shots for the article showing the Total Chaos front end working on the trail… not so good.  That meant I had to go out again and get to work.
Work you say…  How hard can it be doing what you enjoy, driving 4×4 trails?  Well, driving is the easy part.  The hard part is documenting it all and not sounding like my third grade "Summer Vacation" theme that Sister Mary Knucklebuster turned into her year long example of how not to structure a sentence.
And while I'm sure hanging out with Cosmo glamazons at a Sports Illustrated swimsuit photo shoot has its perks, our photo shoots mostly involve me crawling around in the dirt trying to get the right angle.  But unlike stiletto healed Victoria Secret models in nothing but a pair of angle wings, the FJ Cruiser looks sexy wearing full trail gear and is not so high maintenance.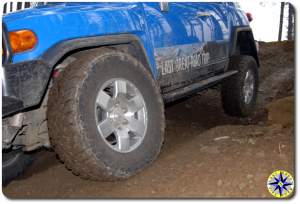 I always liked the show "Survivor Man". It's entertaining to watch the host, Les Stroud, survive in the middle of no where for a week on his own, but the cool factor goes way up as you realize Les is not accompanied by a film crew, sound engineers or a team of producers.  He really is out there on his own, humping all his camera gear, setting up, tearing down and filming, all the while trying to keep his cameras dry and survive with nothing more than a paper clip, four feet of twine and half a stick of chewing gum.
In our videos, what you see is the rig coming down the trail or driving over an obstacle and than heading off into the sunset.  Like Less, what I do, is pull off the trail out of the way, run up ahead with equipment in tow, plan the shot, set up the video camera, check sound levels, press record and run back to the rig… drive down the trail… than pull off the trail, jump out, run back, stop recording, tear down and load the camera and tripod back in the rig and head off to the next obstacle and do it again.  I could seriously hurt myself…  for your entertainment.
After a day on the trail, its back at the office to look through about two hours of video tape hoping to yield five minutes of usable stuff.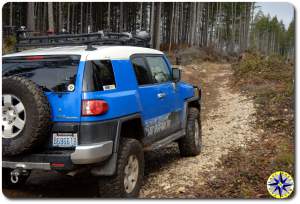 So the next time you read one of the stories, watch our videos or enjoy our pictures thinking I have a great job, remember…  There is nothing I would rather do! It is so worth it and how lucky am I to be able to share with others the fun we have out on the road of life.
Dad always told me "You'll appreciate it more if you have to work for it" and I wouldn't want it any other way.