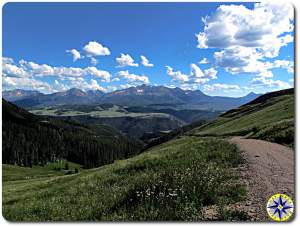 It's been three years since boy and I went on our road trip adventure to Ouray Colorado so when Mark over at Metal Tech extended an invitation to their party at the 2011 FJ Summi in Ouray, it seemed like perfect timing.
Flying into Telluride on a cloudy day is an experience best describe as 45 minutes of complete boredom followed by 60 seconds of shear terror. The small plane which had to leave two passengers and six bags behind because of weight restrictions seem to fall from the sky as it descended from cruising altitude to landing strip in less time than it takes to say a quick Hail Mary and beg forgiveness for all the sins of my past.  As the saying goes: "Any landing you walk away from is a good landing".
You would expect to see lots of FJ Cruiser photos and descriptions of wheeling trails like Black Bear or Corkscrew here. After all this is the 5th annual FJ Summit with some 500 folks gathering to drive the high mountain passes, compare rigs and talk wheeling. But today was more important than that.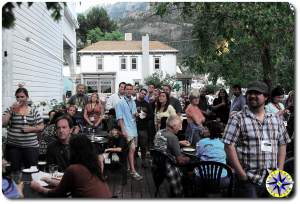 Today was about meeting new friends and reconnecting with old ones. Metal Tech sponsors a party at one of the local watering holes where the beer comes in their famous MT Pint Glasses (green this year if your collecting the set). If you don't know about their pint glasses check on ebay… you can probably find someone willing to part with theirs for the right amount. Of course you may have to sell a kidney to afford one on ebay. Metal Tech doesn't sell their pint glasses, instead they hand them out free at lots Land Cruiser events as their way of giving back to the wheeling community across the country.
Mingling through the crowd, I found myself in a sea of new faces.   There is a strong community bond among this sport and  I quickly found everyone extending a hand and inviting me into their circle of friends  Some were here with friends, others with their wives or girlfriends and a few father bonding with their sons.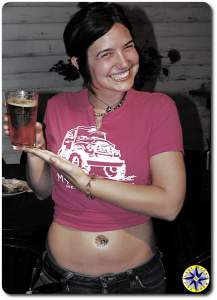 Walking through the bar, filled with hundreds of unfamiliar faces, one suddenly stood out.  I have a strong bond with Frank…  We wheeled The Rubicon Trail together.  The bond that formed on that off-road adventure is hard to explain but it will last a lifetime.  In no time the years melted away and we were sharing stories of our kids, work  and life.  Frank is one of the good guys that I'm fortunate to call my friend.
Parties have two phases.  Phase one is filed with folks talking, sharing stories, and exploring the ties that bond us all together.  When the sun goes down and crowds thin out…  Phase 2 takes over.  I wont name, names or go into details, but when Metal Tech throws a party, debauchery, mayhem, tramp stamp competitions and nudity are a real possibility.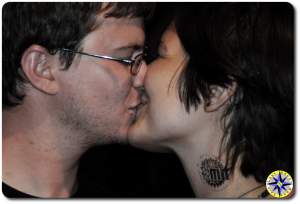 In the morning, I'll be wheeling as a guest of Metal Tech and have an opportunity to try out their new FJ Cruiser rear long travel I've been eying for a while now.  What Hula Betty doesn't know…  That Metal Tech long travel is a done deal…  its just working out the timing now.