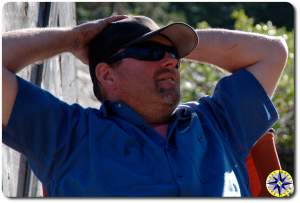 The last two days we battled, clawing tooth and nail against the Rubicon Trail to get here. Today we are growing roots below our camp chairs. The sun beats down and we move our chairs into the shade, the breeze blows and we move a little back into the sun. Regulating our temperature as if we were lizards basking on the rocks we are recharging our Qi. The sun is on its downward slop and we haven't moved more than a few feet all day. The dog days of Rubithon are here and like an old hound dog resting comfortably on a rickety cabin porch, we are aren't going anywhere.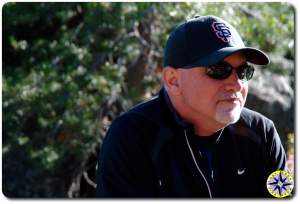 Late in the afternoon, prodigal son ( Woody ) returned. No, we don't kill the fatted calf but we do smile, make room for an extra camp chair and consider our next move… maybe dinner… maybe not. We'll just sit here and think about it while Woody sets up his tent and we listen to his stories from the wagon run.
I can rehash the three days of Rubithon (or you could read The Rubithon Experience) but like summer camp, the experience you take home is completely different than the brochure. Until you're here, having earned your place at the table, I can't begin to tell you how it will change your life and you wouldn't believe me anyway. Everyone I talk with is taking away something special from Rubithon, adding new stories to their mental catalog that they will pull out years from now around some distant campfire. Stories I hope to hear them tell when I wheel with them again somewhere down the road.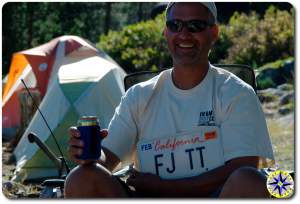 Three days and four nights, the Rubicon Soda Springs has been our home. Early Sunday morning a parade of Toyota trucks is lining up to leave. The only thing that stands between us and flushing toilets is Cadillac Hill.
The advice you get for Cadillac Hill… stay left. Cadillac Hill, named for the old wreck that rests there, is a long series of narrow switchbacks starting out as a rutted section filled with tree roots and exposed rock followed by a hairpin turn that becomes very off camber and contains a series of boulders to maneuver over. Finally a steep waterfall of large loose rocks to climb. Oh yeah, on the way up, a cliff to the right. The stories of rigs going over the side, tumbling to the bottom and ending with heroic rescues of the victims fill TV reports, the news papers and Internet websites. Stay left, don't hit anything and hang on.
Leaving at 7:00 a.m. means I'm up at five tearing down camp with Brad, making last minute checks of the rig and ensuring everything is strapped down tight. God I hate early mornings and damp fog isn't making this morning any better as we roll up in line. As we wait, watching well built FJ 40s and 80s ahead pull cable to get past the obstacles of Cadillac Hill puts a knot in my stomach as my turn approaches.
On an off-road adventure I try to live by five simple rules:
Get out of your comfort zone
Let go of the past, don't worry about the future, live in the present
You are in charge of your adventure, own it
Embrace change, flow with it
Smile, relax, enjoy…  this is suppose to be fun
At this point I'm all over rule #1 but having a real hard time with #5.  Spinning tires on wet granite the rigs ahead slide into rocks as they try to grab hold of the slick surface and pull themselves out of deep holes does not look fun. Crunching of metal, squealing tires and the roar of horse power echos up and down the hill.  Now it's my turn.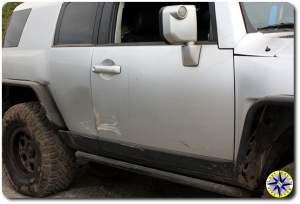 With no room to negotiate, other rigs on my heals and the thought of tumbling down the hill buried deep within my subconscious, pictures are a bit scarce of Cadillac Hill.  In fact I'm still blocking the whole experience. You'll just have to take my word for it that the Blue Bunny made it. And made it cleanly. Unfortunately there was a large rock that took out its aggression on the door panels on one of the FJCs in our group. An approach that was a little high, a little fast on a rock that was a little too wet combined to make for a big bang. Another in our group caught a bit of door as they tried to squeeze between two chunks of granite, leaving a dab of paint behind. A third gave up a small ding to a rock that reached up from below in an effort to stop their forward progress.
We were so close to all making it a clean run… But this is the Rubicon Trail and as I said in the beginning of the adventure, trail damage is a real possibility. It is part of what makes this trail so special. Not that any of us want damage but the challenge of pushing yourself and your rig to their limits is only possible when you are forced to overcome obstacles bigger and more complex than before. Rubicon is that challenge and it comes with risk.
Two days down, two days back and six days on the trail. Sitting in my office, looking back and writing this story I have time to reflect on it all. For me Rubithon is ranked as an adventure of a lifetime but where in that ranking? Each adventure holds different memories, Rubithon: Brad's trial by fire, Woody's stories, Mark's encouraging words, new friendships and Little Sluice. There were some camera problems, a new coat of rattle can will need to be applied to the sliders, a plastic bumper wing looks tired, and there were some restless nights but none of that takes away from the experiences or the soul baring I've exposed here to the Internet.
Will I take on the Rubicon Trail for a third time… I don't know. There are so many other off-road adventures to plan as we continue to explore the road less traveled. But the Rubicon Trail definitely qualifies as one of the last great road trips left on earth that everyone should check off of their bucket list.