Back in 2009 I made my first trip across the Rubicon Trail. Naive and in way over my head I had no idea what lay in front of me… four years later and several major off-road adventures under my belt I know what to expect from this adventure and my anxiety levels are shooting through the roof.
The sun is still warming the early morning mountain air, as Brad and I descend to the base of Loon Lake for the meetup where several others are gathered. Brad has co-piloted for me on Baja, the Utah Backcountry Discovery Route and a couple of local trail runs but until now, I've not exposed him to anything like what we'll experience on Rubicon.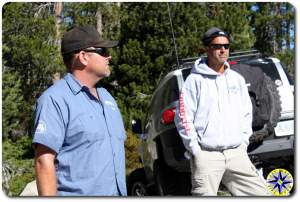 Our trail boss, Mark Hawley from Metal Tech 4×4, one of the nicest guys you'll ever meet, is starting to hold court as soon as we arrive; inspecting rigs, handing out trash sacks and putting raw nerves at ease with his calm demeanor and assurances that he will help get us through. Thirteen individuals, in eight different rigs make up this convoy about to set out across some of the most scenic granite in the world. For the next several days we will be inseparable, placing our rigs and lives in the hands of one another.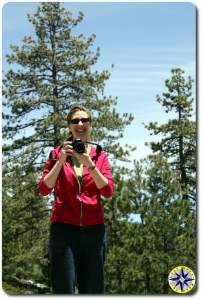 Marcus and Laura had traveled from Phoenix escaping the 110 degree heat. Mike and Erin drove across Nevada through the late night in order to make it here on time. Bill and Virginia left behind the rain of the Oregon coast to be here. Todd, who had out bid everyone back in Tennessee for a chance drive Metal Tech's FJ Cruiser, had flown in the night before. David and his dad Mark join us this morning to take on the trail, each in their own rig. Brian "Woody" Swearingen, who surprised everyone will provide additional support, guidance and comic relief on the trail. Five FJ Cruisers, two 80 series and a FJ40 lined up and ready to go.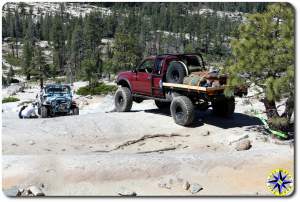 The TCLA's departure schedule is run tighter than a German rail station and at the stroke of nine we are departing the lake. Moving cautiously, getting comfortable in our rigs with the feel of granite under our tires we proceeded down the trail slowly but in less than a quarter mile our convoy comes to a screeching halt. The 7:00 a.m. group, we'll just call them "The Committee", are working to repair one of their own. Not wanting to put the "turtle slow" (a not so accurate assumption) FJCs in front of them they ask that we hold back since they would be ready to move on in just a few minutes. Two hours later and we are still within view of Loon waiting on their repairs, but this is Rubicon and if folks need a hand you stick around… no one gets left behind.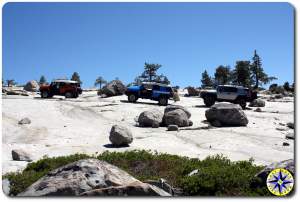 The weather at 6,000 feet above sea level can be deceptive. The sun feels good on our skin but there is little atmosphere to protect us against its burning rays. With few trees to stop it, the wind blows where ever it wants across the expanse of granite slab stretched out around us. Our tube doors that provide so much visibility of the trail offer little protection from air rushing by as it pulls the moisture from our lips and dispenses a chill over every exposed body part. Waiting for the repairs to complete,
we hunker down out of the wind, sitting next to the rig, hydrating, nervously chatting about the trail ahead and hydrating some more until the wounded FJ40 is once again on its feet and "The Committee" has put some distance between us. The sun is now well over head.
As the slab gives way to loose rock and boulder our convoy picks its way through
the narrow maze that is Rubicon, climbing up shelves, scrambling over boulders, then navigating along wall faces where only a wisp of space exists between mineral and sheet metal. FJC's taking one set of lines, the 80's another and the lone FJ40 of our group driving a third. Watching the rigs pick their way through each obstacle you can see Land Cruiser glory reaching back all the way to the shores of Japan where they originated nearly a century ago.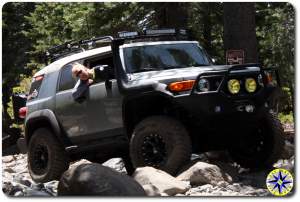 There is no break from the obstacles our group faces. Like a lion on the Serengeti the Rubicon Trail picks and pokes looking for weakness until it finds an opening to extract its revenge. One false step, a momentary lapse or an unaccounted for rock and the Rubicon Trail will warp you against a boulder. We are constantly on high alert.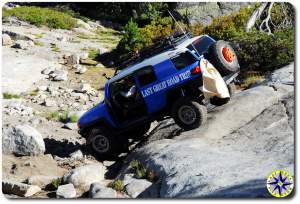 The big obstacles stack our little group up as each rig works its way through with the guidance of spotters. These little delays offer us all a chance to watch and learn from each other's approach to solving the problem. We each have our own way, some gingerly balance between braking and gas to maintain slow steady forward momentum, others use more skinny peddle preferring to muscle their way over rocks. As the long FJ
Cruiser with three peddles, I recalled my first experience on the Rubicon Trail where you could smell clutch for blocks as I worked with the stock gears and transfer case trying to control power without killing the engine. Driving a manual on The Con is all about gear options, this trip I came prepared to do battle, armed with a re-geared rear end and a 4speed transfer case. Drop into the low end of the crawl box and ooze confidently over whatever is in the way.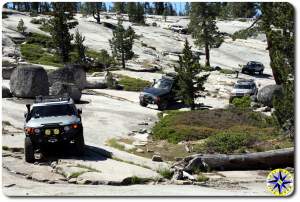 Between the stupid low gears and the visibility afforded by the Metal Tech tube doors, this is a different experience all together. I can now see where I want to place a tire and guide the rig onto and over each obstacle without having to dance between the brake, gas and clutch. This is how wheeling is meant to be done, even if I am compensating for missing skills with more technology.
Years earlier we pulled off trail, walked up to Little Sluice, got back
into our rigs and made a hasty retreat to the bypass. Once again we have come to the moment of truth. Little Sluice lays in front of us like a boulder staircase reaching up so high it makes the trees jealous. Although some will say it has been paved, and even with many of the truck size obstacles removed Little Sluice remains a formidable path stretched out before us.
Woody in his 80, of course makes it look
easy, running all but a few feet with open diffs. Finishing the section he expresses his belief that the FJCs are more than capable of taking it on. He walks us up the route he has in mind pointing to a way out (up a rock face) if the boulders get too hairy.
Todd is the first to step up to the challenge… after all it isn't his rig. With Mark and Woody spotting, Todd works Metal Tech's Orange FJC up Little Sluice bouncing from rock to rock and working the line. As he pulls past the last large obstacle, a sense of pride washes over everyone knowing that the latest rigs to come out of Toyota have what it takes to call themselves Land Cruisers.
Mike rolls his rig up to the base of Little Sluice next following the same lines and working his rig until the sound of air rushing from a tire echos along the granite hills, stopping all forward progress. Mike's has rolled the bead on his tire and he is stuck. Time to breakout the bottle jack and see about re-seating the bead where his rig sits, perched on rocks next to a massive wall. Karma can be as cruel as an angry mistress with your wife's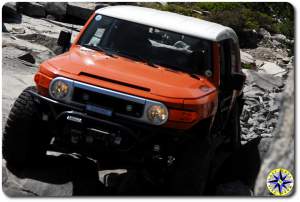 cell number on speed-dial or she can kiss you with the love reserved for a mother welcoming her child into the world. Mike clearly has been living a good life and Karma chose to smile down on him this day. Within five minutes the wheel is up off the rocks and on-board air is pushing the tire back into place as the bead resets itself on the rim with another loud pop. Two minutes later under Woody's guidance, Mike is working himself away from the rock face and up to the top of Little Sluice.
For me, Little Sluice is the Rubicon Trail. Pulling forward, my mind races. Will my 33 (and a half) inch tires give me the clearance I need over these boulders? Do I trust that all the mods LT worked so hard on will pay off? Do I have the skill to follow Woody's direction and drive a line that feels wrong? Will I have the determination to work through the mine field when the sound of metal scraping across granite rings in my ears or will I bail out? Do I have what it takes to risk body damage and push myself through the obstacles that years earlier I had walked away from?
My motivation isn't driven by testosterone (there are better outlets for that) or a need to show off. Rather motivation comes from a desire to know if my skills have matured to a state where I can take on a challenge that is a significant step up from any I've previously tackled.
My ass puckers a bit (more) as I motor up Little Sluice and pass the last turn out to safety. There is no going back now and like long legs in heels strutting across the room, the rock face on the right and boulders ahead have my full attention.
As with any tough set of obstacles, I get hung up a little as I work through the line. Woody backs me up, repositions me to a new line and I try again… this goes on to the point where I am making more progress backwards than forward.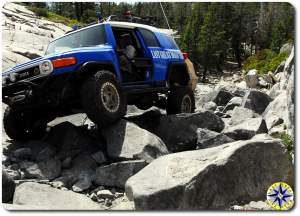 Then the light goes on for Woody that I'm not running a stock rear end and my Ford 9" is getting hung up because all that flexy travel will not force my diff to raise up like the stock FJCs he'd driven back in the day. A few squirrelly turns back and forth, a little change in direction. Woody now has me crawling the Blue Bunny up the gauntlet of trauma on a new path and through the drama of Little Sluice. You can not wipe the smile off my face as I pop out the other side. No I didn't do it alone (Thank you Woody!!!!) but I did do it and I did not leave any paint or parts behind.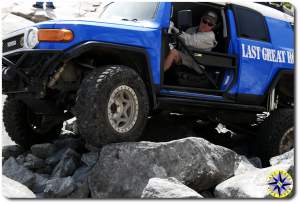 Between the adrenaline rush, constant barrage of obstacles and lack of sleep the night before, the rest of the road into Buck Island Lake, gets a bit foggy… I do recall at some point our group of "little turtles" caught back up to "The Committee", who decided this time it might be better to wave us on by rather than face the embarrassment of being over taken a third time. Our little rag tag group of off-road adventurers made its way down to the Buck Island Lake safely, our biggest incident today a blown tire bead. Hungry, excited, a little warn down and covered in trail dust, we quietly setup camp on a flat rock, eat a warm meal and turn in for some well deserved rest.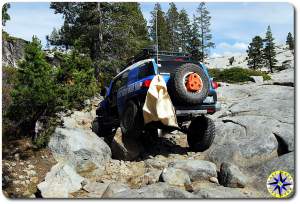 The night is clear and the taste of cool mountain air lingers on my lips as the stars dance across the blackness. Drifting in and out of the place where dreams are born I can't help but think about what tomorrow will bring. Halfway across the Rubicon Trail and tomorrow things gets tougher.