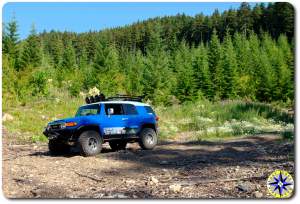 Growing up in Portland OR, my formative high school days as well as my heavy drinking college years were spent chasing one thing…  Ok maybe two things but the one I'll write about was the chance to go out, explore off-road, getting lost on the logging roads above Estacada OR.
I would drive my old Baja bug, held together with spit and bailing wire, looking for out of the way places to fish and camp.  In those days, and we won't do the math to figure out
just how long ago that was, the creeks were filled with little 6″ native Cut Throat trout and the gravel roads shook under the traffic of the big logging truck.
Recently I had the chance to chase those elusive logging roads to their end once again.  This time however the FJ Cruiser gave me much more off-road confidence to go beyond the gravel and venture onto the two tracks…  sometimes down the no tracks… just the hint of a trail that lead to views seen by only a few others and maybe not seen for years.
I was off the map…  I was exploring what was around the bend, over the hill and what just might be next…  Driving those old roads (now mostly abandoned by the logging companies) provided a sense of peace and solitude for Hula Betty and I, that seems to be more and more difficult to achieve in a life connected by email, cell phones and text messages 24×7.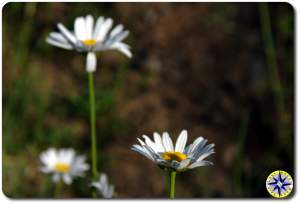 The years change things…  not for good or bad, just change.  The rustic state camp grounds I knew now take reservations and the scarred mountain sides were once again green with the promise of a new crop of lumber.  The logging trucks don't thunder down the mountain and the mills have closed leaving ghost towns in their wake.  But the mountains still stand tall in all their majesty as the sun sets on them.
The saying is "you can never go home"…  and you really don't want too…  but every once in a while it is good to take a look and see the changes.  Who knows, you might find a little bit of your past and a lot of your future out there on an off-road adventure down memory lane.
And if you have the chance, drive up the Clackamas River, past Ripple Brooke Ranger Station and turn left off into the woods.